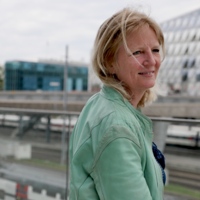 Let me tell you a story. Mine.
My name is Nicole Dessaux and i'm a student at University of Geneva, in Digital communication, social media. It's been quite a journey so far. So much new learnings.  Opening so many unexpected doors. Mainly exciting, but also stressing. Where to start ?
SEO : Mr. Florian Bessonnat's course was one of the highlights. He knows (and he told us) how to improve your pagerank. Quickly and easily. First 10 or even first 3 on 1st Google page. By the way, this is what i have to prove with this page. Check if i made it ! If so, i could even provide some of the secrets we've been told. Just leave me a note, i'll get back to you. On the bottom line, one basic key : quality content.
Social Media. Mr. Yan Luong. He's a master in his field (and seemingly in so many others, like nightlife and cooking). And knows how to teach it ! Anybody who needs some refreshment on the subject should get in touch with him. He is one of the key influencers in Switzerland. Travels the world to stay up to date. Told us how Facebook advantages videos in its ranking algorythm to better kill Utube. And that Snapchat was the big thing. So many others…
Competitive intelligence. So many tools to help a company analyse its competition and track a subject on the web. I love diigo and its digolet: helps  to aggregate knowledge on one topic. Alone or in a group. IFTTT:  another of my favorites. Now i get a notification each time the spaceship is over my head! But I'm also informed eachtime my company's name is named on twitter.
Labs on PowerBI (Microsofts' Business intelligence). Impressive. Mr. Tien Dung Thoi and Tony Benham. He told us about machine learning and personal assistants. Seems to be a sf movie. Made us realise that it's called today!
The role of storytelling (way more important in the US than in Europe, why? Please leave me a note in the box below, if you have a clue).
E-commerce. We learned how to settle a shopify account and to start selling in less than an hour. Mr. Jean-Marc Seigneur knows all about it, and also about e-reputation. Check the practical work we had to do (don't tell me you've read the 22 pages!).
Digital marketing with Mr. Arnaud Dufour. The basics of marketing with the digital point of view. A must-have.
last, but not least (my favourite teacher!): Mr. Benoît Tézenas du Montcel, introduced us on the path to today's economy. What happenend during the last 50 years in the digital field ? How did it happen? Do you know the story of Judge Green ? It's how AT&T lost its monopoly, which played a key role in the Web 1.0 start-up.
A few of my new acquaintances at University of Geneva: Laura Mattiucci, Tamara Boschung, Marie-Noëlle Emery, Jean-David Curchod, Hugues Mottard, Christine Ruph, Marie-José Genolet.

And I have a job. I am an assistant at FER-Genève. It's an entrepreneur's union, handling professional associations. We manage them, lobby, organize events, do the daily business, settle comity meetings, answer labor law questions, manage their websites: diverse and demanding. Modernise our administrative work is my ambition. Introducing digital forms, the ged, organizing seminars on the digital risks, emphasizing on efficiency.
UPSA is one of the associations we're handling. It's the car entrepreneurs union (Union Professionnelle Suisse de l'Automobile). A busy union gathering the garage owners. They lobby in favor of their economical sector, but they're also very active in implementing the best work conditions for employees. There is a joint commission in charge of managing the collective labor agreement. This aspect of my job is a passionate (and new to me) dive in how the local, and more generally, the swiss economy is operating. One of the explanation of its success i believe.  I handle the UPSA  website (together with that of other associations').
APVO is the association handling the Used Car Show (Salon de la Voiture d'occasion) taking place once a year at Palexpo. More than 500 cars are exhibited during 3 days. I'm involved in its organisation and handle their Facebook account. I love it !
AGENS, UGIE, SPGCM and GAVG are the other association i'm dealing with.
I enjoy the fun of working with great colleagues and a text-book ideal boss. After 7 years on my lonely entrepreneur's route, it's a nice change.
Entrepreneur
I guess my focus on efficiency and good money management stands from my entrepreneur's experience: Capucine Dessaux Distribution. Import and distribution of fancy handbags from Canada. I was a wholesaler for mainly Switzerland but also Germany and Austria. Hardwork, but so exciting when a goal is reached. Did it for 7 years. Once you've experienced it, even though it's tough, you can't go back to an employee position with the same eye.
That's why i suppose some consider me pushy. Yes, i hate it when i'm told: « We've always done it this way ».
More about what i did and what i do on: